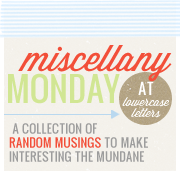 It's a random day, so time for a random entry. Cause random is fun!

one.


I attended a The Rosie Show taping today. A real one. It airs tonight! In fact, it airs very shortly and will already be in progress by the time this post is published–unless I type SUPER fast! If you have OWN, tune in NOW!
I sat next to two people who ended up on the air–but away from me. So, if I show up, it'll be fleeting and a miracle. Talk about being so close. So very close!
Here's the funny thing. Adam and I don't have cable. SO I CAN'T EVEN WATCH THE EPISODE AIR.
Oh well. At least I got a free Snuggie out of it.

If you look closely, you'll see Rosie and also Rachael Ray!

two.


Cranberry juice–the 100% real deal that costs $6.99 on sale at Dominick's? It's extremely, extremely tart and very hard to drink. But I plan to somehow get it down because hello. $6.99 a jar.

three.


Friday, I picked up my Blu-ray copy of Harry Potter & The Deathly Hallows Part II. I've already watched it twice.
four.


Last night, I went to an appreciation party thrown by some people at Moksha. As you know, I'm part of the marketing work study team, and Rachel (the person in charge) wanted everyone to meet. She cooked for us all day, and they gave us really nice beads. Honestly, I am spoiled by them. The work I do for them doesn't feel like work because I love it so much, so when they throw parties like this, it makes me feel SO good. I mean, I'm *already* getting unlimited yoga, but they express so much gratitude. It's amazing and makes me want to do even more for them.

five.


I was going to get a The North Face coat for this (and the next several) winters, but the one I want? $300! Eeek. The coat I have currently is a Land's End coat, and I love it. It's warm and pretty–unfortunately, it's several years old and wearing out. I knew it was time for a new coat, hence my planning to purchase a The North Face coat. Well, Land's End is having a sale, plus friends and family, and free shipping. Combining all that with some Shop Your Way Rewards credits, 6% cash back from ebates, well, it was a no brainer. A new coat will be arriving for me soon!

And that's all for now. GO WATCH THE ROSIE SHOW!