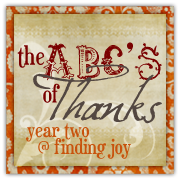 …a simple act of gratitude.
Write a list using the alphabet and then list one item that you are grateful for that starts with the given letter. Don't forget to link up at Finding Joy when you're done.
Here's mine.
A – Aidan and Adam. Need I say more?
B – Books. Because reading is AWESOME. Beaches, because they smell like sand and sun and sunscreen. Babies, because they are a nice way to start people. Bananas. They're funny.
c – Cats, even when they are bratty, or stinky, or naughty. Cupcakes from Molly's Cupcakes. Chocolate chip cookies. Mmmmm. Christmas. My favorite holiday.
D – Disney World! And for being blessed enough to visit six times so far!
E – Email. It's my choice way of keeping in touch with people!
F – Family. 'Cause I love them. Friends, too.

G – Green, for the color of grass and leaves in the summertime.
H – Hugs. They never fail to make me feel yummy inside.
I – Internet. I've made so many friends and learned so much thanks to the Internet being around. It's integral in my life. Also, I am grateful for incense. It makes the place smell so good and it makes me *feel* good.
J – Juice. Especially 100% cherry juice. Delicious.
K – Kirtan. Beautiful call and response chanting. It's non-denominational, and the music of my soul.
L – Libraries. A free way to feed my reading addiction.
M – Money. It helps me get the things I need and sometimes even extra things I just want. Also, Moksha Yoga. The community there is the best. I'm honored to be a part of it.
N – Nice people. They make the world so much better.
O – Opportunity. To work from home, to make friends from all over the world, to live in a cool city (even when it does get on my nerves/cost too much), to do yoga, to meet my favorite authors, to meet celebrities, to eat good food, to have a warm home, to wear skinny jeans, to improve my life every day, to be creative. To love. To live.
P – Pandernoodle. My favorite teddy bear ever.
Q – My favorite letter to sneak and push on people's keyboards while they are frantically typing. Qs just make everything quirky.
R – Ronica. My name.
S – Sushi. It's delicious and good for me. Sun, because it's beautiful and warm. Skinny jeans, which I vowed I'd never wear. Until I started wearing them and loving them with boots.
T – Trees. I am a real life tree hugger. I don't hug trees in the city because dogs pee and poop on them. But let me loose in an arboretum? Good times.
U – Unconditional love. There is a lot of it in my life.
V – Vacations. Especially to Disney World.
W – Water. I love water. I love to drink it, I love to shower in it. I can't swim in it, though, and I don't like it when it's falling the sky in the form of any sort of rain. But I do like water because it's what keeps me alive. And it tastes so good! No calories or fat! Perfect.
X – XP points in those stupid games I play on Facebook. I should quit all of them. Maybe I will one day.
Y – Yoga. It has changed my life. For real.
Z – Zoos that have giraffes.
HAPPY THANKSGIVING, EVERYONE!