Note: Check out my site's new look. What do you think? I'm pretty happy with it. It took a lot work and research to finally find a theme that I was able to customize without paying an arm and a leg, and without too much trouble. So, YAY.
Tonight, Adam and I went to Eleven City Diner for dinner. This is what I had:
Mmm, so good.
In 2008, Adam and I ate there for our post-elopement celebration. They brought us their special Eleven City French Toast: fresh baked challah with strawberries, bananas, and toasted coconut. Good times. (Even though I don't like bananas or coconut–but it really was nice of them to do that for us.) Chicago has no shortage of good diners, and Adam and I love a good diner run.
If you've been following my twitter feed, you'll know that I've been having the most random cravings. Cake. Cupcakes. Sushi. BBQ beef. Beef & noodles. Turkey & cheese sandwiches with mustard (and tortilla chips). Hmm, maybe they aren't so random. They're actually pretty predictable, because food wise? I'm pretty predictable.
I've gotten intense cravings for as long as I can remember. My first serious boyfriend never craved anything, which bode well when choosing a place to go eat. I ate anywhere I wanted because he never got a taste for anything particular. He'd just eat whatever was there. When he and I parted ways and I got with my second serious boyfriend, it was a shock for me to suggest a restaurant and for him to say he wasn't in the mood for it.
My intense cravings can really make dinner challenging. Adam and I tend to be on our own for the other meals and snacks, but when it comes to dinner, he likes to make a nice, hearty meal and he likes for me to enjoy them. But not only do I have intense cravings, I also have a finicky appetite. I will get hooked on something and eat it every day for two weeks straight. Some foods I'll never get tired of, like spaghetti, or turkey & cheese sandwiches with mustard, Whatchamacallit bars, spinach. Or I will unexplicably go off a food and not want anything to do with it for several months. (Ask Adam about the time I went off chicken. He hated life.)
We also have different ideas of dinner. I can eat a plate of rice and spinach and be perfectly happy, or a turkey sandwich will satisfy me. Adam says "that's not a dinner" and says that we need meat, starch, and veggies. I'm talking beef, mashed potatoes, gravy, and green beans or something like that. It doesn't matter if it's the dead of summer and it's 95F out, and if I say it's too "heavy" or something, he goes "What does that even mean?" He tells me to never become a vegetarian or a vegan because feeding me is already hard enough, that I don't like enough veggies. But I don't think that's the hard part. I think the hard part is us not having compatible tastes all the time.

this is what Adam considers a true dinner
I know that he's had to adapt a lot of his eating habits because mine are so weird. For example, he never buys onions because he knows I don't like them, but on the rare occasion I do cook (it happens, it really does), I show him how I can make stuff taste yummy without using the vile things. 1 He knows that texture is a HUGE part of my eating experience, and the wrong texture will ruin a meal for me. 2 Toss in other weird food issues, and I don't see how he puts up with it. I've told him he shouldn't feel responsible for making sure I eat because I do have these hang-ups, but he said he LIKES to make sure I'm well fed and enjoying my meals.
A few months ago, I went to an Intro to Ayurveda workshop at Moksha, given by John Joseph Immel. Ayurveda is when you can manage your health by eating based on your dosha. There are three doshas–Vata, Pitta, and Kapha–and you're to favor certain foods based on these doshas. It was interesting. A lot of it is stuff that's inherent, but we kind of tamp it down in the name of convenience. But hear me out. If you're feeling hot, don't go eating peppers. Eat something cooling, like fruit. If you're sick, get some rest, which not only means overall, but also, by giving your digestive system a rest. Eat foods that are nourishing, comforting, and easy-to-digest. See, makes perfect sense, right? Ayurveda isn't some woo woo crazy thing. It's listening to your body and eating accordingly. I wonder what Adam's dosha is, now that I think about it?

anyone else got the wiggles fruit
salad song stuck in their head now?
just me? ok then.
Going into our fourth year of marriage, I know Adam is still trying to figure out how to keep me nourished and happy. God bless him for his patience.
Hey, be sure to stop by tomorrow for the Twitter linky hop thingy that I host with Krista from Army Wife Style and Annie from Letters To Mo. I will also be revealing what I received in the 2012 gift exchange and link party!
---
Linking up with: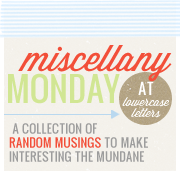 ---
To be fair, I like what onions do to food. I just don't like THEM. ↩
It's why I don't like oatmeal. I hate the way it feels in my mouth. It's also why I can't eat mushrooms, and one of the number one reasons onions turn me off so. ↩