I was paired up with Lesley from My Lively Mind.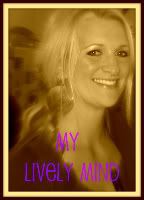 This was such a great idea! I had fun shopping for Lesley, and I'm REALLY hoping she gets her package today. If you remember, the first day I went to mail it, I had to leave the post office due to an emergency there. I mailed it early Friday, though. Let's hope Chicago mail DOESN'T live up to its reputation and actually gets something to someone on time for once.
Anyway.
I got my package from Lesley last week. Here's what was in it:
shower cap, notecards, lavender sachets, tea, pens, and jelly beans!
The lavender smells so good, you guys, and you all know about my obsession with pens and stationery, right? If not, then now you do. It's perfect.
Thanks so much Casey, Danielle, and Alycia for hosting this!
It was a lot of fun.