CHECK THE CLOSET AND LOOK UNDER YOUR DESK!
CASPER'S SCARE SCHOOL IS BACK IN SESSION THIS HALLOWEEN SEASON!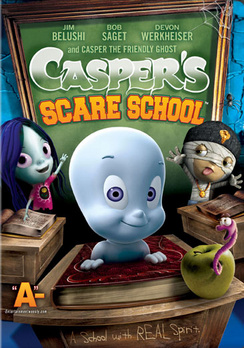 Like most kids, Casper loves hanging out with friends — but his friends are real monsters! And at Scare School, where they have been "molding monstrous minds for 10,000 years," that's a good thing. In fact, the scarier the better! Whether howling at the moon, or taking off their arms to literally 'lend a hand,' these are definitely not your average students and Casper is no ordinary ghost. He's a unique spirit who'd rather make friends than frighten, and he just doesn't understand why humans (a.k.a. "fleshies") and creatures can't get along, especially since his best friend IS a "fleshie"! Casper's determination to be a friendly ghost makes his education at Scare School a challenge, but with his big heart and the support of his friends, Casper is sure to succeed no matter what obstacles head his way.
With the start of a brand new school year, Casper's adventures at Scare School have gotten a whole lot crazier, a whole lot creepier and even more "fleshie"-frightening than ever before! So get ready because Season 2 of Casper's Scare School is filled with enchanted ghost ships, possessed jack-in-the-boxes, mischievous superheroes, herds of Bog Monsters, boys that turn into ghosts and werewolves that want to be boys…and that's just the beginning!
Want to win a copy of Season 1 of Casper's Scare School? You're in luck. I have two copies to give away. What are you waiting for? Giveaway ends October 15, so enter now!
a Rafflecopter giveaway