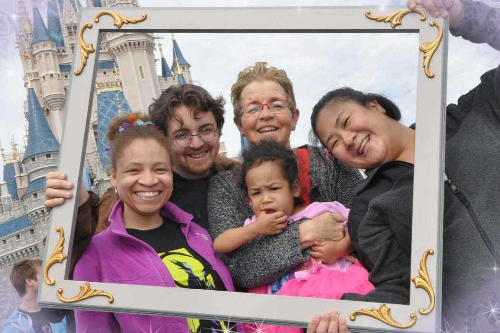 Part One: Magic in the Magic Kingdom
Part Two: Animal Kingdom: I LOVE TODAY
Part Three: Experimental Prototype Community of Tomorrow
Part Four: Hooray For Hollywood–Studios, That Is!
On our last day at Disney World, Adam and I hit the Magic Kingdom. Our goal was to get there at Rope Drop, so that we could ride all the rides and attractions we couldn't on Monday due to the crowds and the lines. It almost worked–we got there when the train rode into the station with all the characters. A little boy was walking in and the way his face lit up was amazing! And he hadn't even seen the characters yet. It was fun to see.
Once we got in Magic Kingdom, I remembered WHY I love going at Rope Drop. That first hour when the Magic Kingdom is open really is magical. There's all the singing and dancing, everyone is fresh and happy, and it just looks so shiny and new. Not to mention that it's not crowded at all, and the rides are pretty much walk-on.
The first place we went was to get Fast Passes for the new ride: Under The Sea ~ Journey of the Little Mermaid. We were mildly disturbed when the Fast Pass return time was already 1:50pm. Had that many people already gotten Fast Passes? But the cast member said that the ride wouldn't be open until 1pm.
Once we got those, we headed to Storybook Circus, where the wait times were delightfully short to meet Minnie, Daisy, Donald, and Goofy (who had a "light sabor" fight with Adam), and to ride the Barnstormer!
We made our way to Tomorrowland, where we hopped on Space Mountain, and then we headed to Adventureland, where I got a Dole Float with pineapple juice and orange soft serve. It was a delicious breakfast! Then we rode Pirates of the Caribbean, and then made our way to meet Adam's mom Sharon, his sister Cassidy, and our niece Lola!
They'd called the day before with a crazy idea to drive up from Atlanta and spend the day in the Magic Kingdom with us. AND THEY DID IT. Awesome, huh?
We made our way to the Hub to get Fast Passes so Lola could meet the princesses later. Then we made our way back down Main Street, U.S.A. There was singing and dancing and good times. Lola was cranky and didn't like it.
Then we looked through a few shops and drooled over the sweets at the confectionary.
We walked around and hung out and ate a delicious lunch at Liberty Tree Tavern. Oh man, it was soooo good. See how happy we were?
We watched a bit of the castle show, and this was Lola's face when the princesses came out:
By now, it was time to go meet the princesses! Lola was SOOO cute, you guys. She had so much fun, in her little princess dress and big smile.
She got to meet Cinderella, Aurora, and Rapunzel. THEN, we took her to meet her favorite princess of all time….
Do you see how she's looking at her??
Could you just melt?
Snow White after she realized that Lola was singing "I'm Wishing" to her. Bless.
Lola got a nice Snow White kiss for that. After the meet and greet, Lola ran to her mom squealing and jumping. SO CUTE.
We made our way back to the new Fantasyland so we could ride the Under The Sea ~ Journey of the Little Mermaid. Now, I don't know if I'd wait an hour or more in line to ride this, but it was a BEAUTIFUL ride just the same.
In the meantime, Cassidy and Sharon had taken Lola to ride the Carousel and it's a small world. Then I had work to do. So I worked while the parade played in the background, and then we all met up again in Columbia Harbour House, where Lola hugged me and told me she loved me.
Then it was Mad Tea Party (aka the Teacups) where Lola was more in love with the idea of riding than actually riding it. She seemed a little unsure and we were afraid she was gonna hurl! But she didn't, and she did manage to have some fun.
Cassidy and I went to ogle/buy more treats, and then we made our way to the front of the park by train! It was time for me and Adam to head back to the hotel to catch the Magical Express back to the airport.
But not before stopping in to visit The Mouse himself!
Then it really was time to go. I was sad. A Move It! Shake It! Celebrate It! street party was starting again and I wanted to stay and dance. I wanted to hang out with Sharon and Cassidy and Lola some more. I wanted to stay in the Magic Kingdom! *sigh* But we parted ways and Adam and I headed to wait for the bus back to Port Orleans French Quarter. And folks, this is when we had the WORST bus luck out of the entire trip.
Part of it was my fault. I miscalculated how much time we'd need to get back to the hotel. So when we arrived at the bus stop, I was hoping a bus would be there or get there pretty fast because it's only a ten minute ride back. It was about 5:35pm.
But of course, no bus showed up. We needed to be back to catch our Magical Express bus at 6:10pm. A bus back to the resort didn't arrive until 6:15pm. We'd been standing at the stop for what felt like forever. We were stressed and I was getting cold. And when the bus finally arrived, we had to wait for them to load a wheelchair first, and that takes some time.
Luckily, Adam's mom and sister had driven and they were ready to leave Magic Kingdom. So they were willing to meet us at the hotel to take us to the airport (or I was just going to get a cab). But there was a Magical Express showing up at 6:40pm and they let us on there. The ride back is always so much more subdued. No excitement, just resignation, really. This is the worst part of the Disney World vacation: when it's over. I would have been so much sadder if I didn't know when I'd be going back. But fortunately, I knew that I would be back in just a few months, so I wasn't as sad as I could have been.
I really wasn't ready to come back. I was not ready to come home and walk into a place reeking of cat poo (they like to poo all over the floor and couches as revenge when we're gone), I did not want to come back to the cold and snow and slush, all the rushing and honking and abrasive attitudes. But real life has to go on–that's what makes the trips so wonderful and special, right?
So, this concludes my trip report. I'll definitely write about my lead up, planning, and trip in June, when I take Aidan (yay!) and my mom (her first trip!), and my cousin Falandos (his first trip too!) who is meeting us in Orlando. Should be a wild time!
Thanks for following along! I can't wait to go back!