I'm a little late answering this link up… I was in Ohio this week and not only was there limited internet time, I was busy visiting my family and friends!
This week, Marie asks us what our favorite books are!
Now, to know me is to probably have a vision of me with my nose stuck in a YA novel, especially if it's a love story. I LOVE to read and I've been an avid reader ever since I COULD read, really.
I like to tell about how, when I was younger, my mother and father would go "heavy shopping." That's the big grocery shopping, when they'd both get a cart and fill it to overflowing and come home with all sorts of great things to eat. My mother would always get me a stack of books, so not only did I have all the treats in the world, but I had new books to read while munching on said treats. It was pretty awesome.
I became a huge bookworm when I was in the fourth grade. Every time I had downtime, I was reading. My mother never grounded me by taking away books. I'm so glad for that. I got in trouble in fourth grade once and the teacher wouldn't let me read. I hated it. I mean, her idea of a good punishment was for students to just sit there. So stupid.
Anyway.
I love lots of books. Lots and lots. No, you have no idea. I have a BOOKCASE IN MY BATHROOM. Actually, every room in the apartment has at least one bookcase. Between me, Adam, and Aidan, there have to be nearly a thousand books in this place. I love to read that much.
The funny thing is that I'm probably not well-read by academic professor standards. I haven't read a lot of classics. I just read what I like.
It's really hard to pick favorites. I do know this. I reread them at least once, and often multiple times, a year. They're familiar. They're worn. Some of them have had to be replaced more than once. Some of them I have multiple copies of for various reasons. A few of them are even inscribed to me which makes them even more special. My friend Julie (Ivy) has a very extensive and exhaustive list of her favorite books on her site, but I am not that thorough! Still, this entry is going to be long, so settle back and hopefully get some good book recs!
And with that said, on to the list!
The HARRY POTTER Series
One summer night many years ago, I was at Target. I was in the book section, and there were Harry Potter books on palettes (Target totally had a different look in the early 2000s). By now, the books were way popular. The movies had been out for a while now, and there were toys and games and costumes. I was just kind of oblivious to it all even though a few of my friends had been suggesting that I get the series a try. I decided to finally see what the hype was about. I picked up HARRY POTTER AND THE SORCERER'S STONE. I read the first paragraph and knew I needed to buy that book. I also gauged the size of it and picked up CHAMBER OF SECRETS as well.
That was a good decision. I remember feeling very certain that it was a good decision.
I blew through both of them in a day. I was at Target the next night looking for THE PRISONER OF AZKABHAN. And GOBLET OF FIRE. I know I had trouble finding one of them but I can't remember which one. I think it might have been GOBLET OF FIRE, although my brain wants to say it was PRISONER. Anyway, I finally got ahold of the elusive one and managed to get them all read in time for ORDER OF THE PHOENIX. Which I didn't (and still don't like as much as the others). So now I was caught up and had ot wait for the last two with everyone else. I bought Harry Potter toys and DVDs and saw the movies in the theaters. I was officially a fangirl and loving every minute of it.
I could go on and on why I love the series so much, but this entry is already long and I have a bunch of other favorite books to list.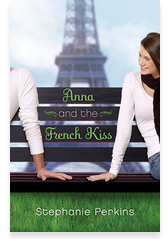 ANNA AND THE FRENCH KISS by Stephanie Perkins
A love story, set in Paris. How much more awesome can you get… except the AUTHOR TOTALLY MAKES IT EVEN MORE AWESOME. It's an easy book to read, and I don't mean it's "fluffy" or a "beach read"… Anna's voice is just that relatable. She's someone I LIKE reading about, and I love the way she expresses herself. The other characters are just as complex as Anna and Etienne/St. Clair, which a lot of love stories don't do. They mostly tend to focus on the main couple… so it's nice to know that these other people have things going on in their lives, they have full personalities and aren't there just to accentuate the couple. On top of that, the descriptions of Paris are so vivid, I feel like I'm there.
I want to write stories that people love as much as I love this one.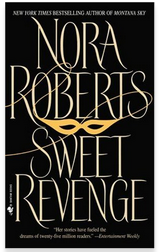 SWEET REVENGE by Nora Roberts
I got this book as part of a book club. I was in a couple when I was in college. Both romance. One of them used to send a pile of books along with a wine glass. I still have some of those wine glasses! Anyway, this was a different book club, one that sent hard covers. It wasn't cheap, but I really enjoyed trying out authors I never would have otherwise. And this book… it was so intriguing. The language in it is definitely dated and would probably not pass the PC police these days, with is narrations regarding Middle Eastern culture… but Adrienne. Oh, Adrienne. She inspires FEELS. So many feels. It's a very different sort of book, with mystery and romance. I was attracted because the story was so unique and I still love it for that reason.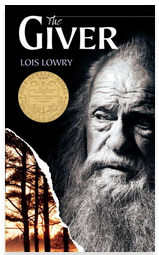 THE GIVER by Lois Lowry
I read this book when I worked at Zaner-Bloser. I was new, and there wasn't a lot of work for me. Someone suggested I read the books that they used for their Voices Reading material, which was actually a brilliant idea. What, get paid to read? SIGN ME UP PLEASE.
I read THE GIVER at my desk. It didn't take me long–I was instantly hooked. Lois Lowry does an amazing job with descriptions and when the big twist happened, well, let's just say I was sitting at my desk bawling. Because it is that emotional and gut-wrenching. THE GIVER is a true dystopia.

Me and the writer of this brilliant book, Lois Lowry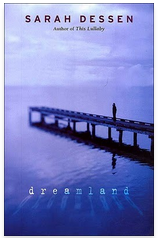 http://www.goodreads.com/book/show/4325.Dreamland by Sarah Dessen
I became a Sarah Dessen reader back in 2005. I first read KEEPING THE MOON, then I read THE TRUTH ABOUT FOREVER. I liked them both a lot, I remember really enjoying them. But then I picked up DREAMLAND. That book made me fall in love with Sarah and her work. It's a book about a relationship turning violent. But it is so beautifully written. It's called DREAMLAND and the book definitely has a dreamlike feel to it. The best part is that you're in her head, so you can completely understand why she stuck around, and why some women don't leave right away. I was so engaged in this book that I actually got a speeding ticket because I was rushing home so I could read it. It is that good. I finally got home and emailed Sarah about it. She'd put on her website that she read all of our messages but probably wouldn't respond. So WHEN I GOT AN EMAIL BACK FROM HER THE NEXT MORNING I WAS THRILLED.
Years later, I was lucky enough to have met her more than once and now she knows who I am and gives me hugs when she seems me. This fangirl over here LOVES THAT SO MUCH.

Sarah and me, earlier this year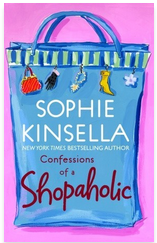 CONFESSIONS OF A SHOPAHOLIC
Oy! What can I say about this awesome book that kicked off the "chick-lit" revolution a few years back? Becky Bloomwood is a fun character to read. Not because SHE'S always fun. She's not. Often I wanted to shake some sense into her. OK, a lot of times. She's frustrating! I mean, to the point where I don't see how the people in her life put up with her…but then, you do realize that she does have good intentions at heart. Things just go all awry. A LOT. There were so many times that I related to her so much. I understood those feelings, those insecurities, the compulsion to buy a bunch of stuff to cheer myself up, the worry about how I was going to PAY for all of that shopping. It's simultaneously sobering and funny.
Here are some other books that I love just as much as I love the ones with the fancy covers and things, but I'd like to finish this post sometime…
THE WILD CHILD by Mary Jo Putney
POP PRINCESS by Rachel Cohn
SPEAK by Laurie Halse Anderson (another amazing author and another friend of mine!)
SMALL TOWN GIRL by LaVryle Spencer
THE HUNGER GAMES by Suzanne Collins
And that's not even close to all of them. Click here to see the list. And just in case you're interested, here are more pictures of me with authors.
And hey, add me on Goodreads, why don't ya?
OK, FINALLY signing off.