Ha. After doing the epic music confession post the other day, I find out that this week's blog challenge is to talk about our favorite songs. OF COURSE it is!
I'll start with my absolute favorite song forever and ever amen, this blog's namesake. Anywhere Is by Enya. The funny thing is that I love it so much, but I don't allow myself to listen to it all the time. So it's an extra special rare treat to hear it.
I have a list of songs that are my all time favorites. Songs that are ALWAYS welcome to pop into my ears if I'm playing the playlist on shuffle. Songs that never fail to make me smile or bring up some good memory or make me want to dance.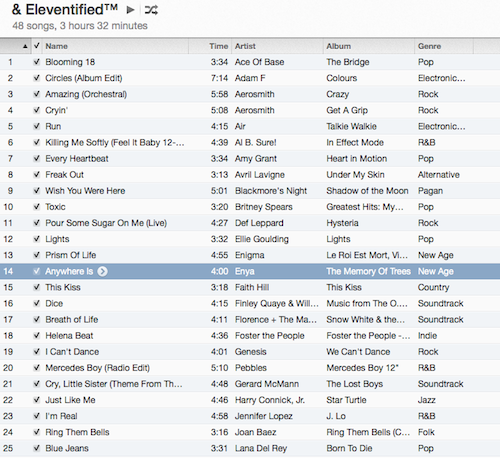 This is some of my Eleventified™ playlist. Some of the songs are from long, long ago, and some of them are from as recently as a few months ago. Funnily enough, as with Anywhere Is, I don't play this playlist often. I think I'm scared of getting tired of these songs that I love so much, and I want to keep it a treat to hear them. Is that weird? Yeah, it's probably weird.
What are your favorite songs?