I visited New York City for the 2nd time in my life in the middle of October this year. I went in with three goals in mind: See the Statue of Liberty, buy macarons at Laduree, and go to Central Park. I didn't get to see Lady Liberty this time (but got to walk past the Empire State Building which I wasn't expecting so that totally made up for it), but I did get to go to Central Park. And BOY did I get macarons!
I stayed with my friend Wanda, who I've known online for years, and her partner T. I met Wanda when I went to NYC for the first time in NYC, where she took me to a restaurant with flaming cheese or something crazy like that. I was really looking forward to spending more time with her and getting to know T.

Wanda
She is amazing. And her partner, T, is also amazing. I had so much fun with them. It was like being with family. Truly. I love them. I can't help but feel like they're so much more sophisticated than I am because they're living in New York City and living well. Whereas I wonder every other day what the hell I'm doing in Chicago.
Wanda is a photographer. She takes beautiful photos. One advantage of having someone with you who loves to take photos and is great at it? Is that I got to be the star of a lot of photos!

Working It!
My first day out and about in the city, we ate brunch at a yummy diner, then headed to the Upper East Side so I could get my macarons. Guys, I love the UES. The buildings are so pretty and everyone looks so… rich. And the stores. Oh lordy. The stores! My wallet was itching to come out, but I didn't. I resisted. Except in Laduree. I went a little crazy in there.
Can you blame me?

Sweet Lord
We didn't get much time in mid-town. We had to head to Jersey for BBQ and jazz, and that was a long trip involving a lot of trains. We walked past the Empire State Building, which wasn't something I expected to see. I was excited about that.

Empire State Building
I mean, yeah, I felt like a total dork but I rocked that dorkiness. Hell, I still geek out over the Sears/Willis/whatever the hell ever and I freaking LIVE here.
Anyway, we got to the BBQ place and ate delicious food and listened to wonderful jazz that reminded me of The Cosby Show. Then Mr. Hayes, the sax player (and also T's sax teacher), gave me a copy of his CD and signed it for me. He also told me, in so many words, that I was pretty, making him an instant favorite.

Mr. Hayes & Me
After a crazy commute home, we relaxed and then crashed.
An earlier start the next morning. I had no idea it was going to be such a long but awesome day! Wanda and I headed up near Columbia to see her church, Riverside. A beautiful building! Then we darted to Columbus Circle to meet my friend Sun, someone else I'd known online for a very long time but had never got the chance to meet! Until that day!
Sun is just as awesome in real life as she is online. She's so confident and self-assured, and she is so comfortable in NYC. I can tell she really loves the city and that she thrives there. I am sooo glad I got to meet her… finally!
We explored Central Park, which is, hands down, my FAVORITE part of New York City. It's so big and vibrant and there is so much nature and it's so beautiful. I love, love, love Central Park.
I could have stayed there even longer but another Laduree run tempted me away. So, we stopped there, then we all headed to Soho for MORE sweets! After that, Sun was done, but Wanda and I headed to Times Square to keep the party going!
We rode the Ferris Wheel in Toys R Us, and naturally I dragged her into the Times Square Disney Store. Because COME ON. You remember whose blog you're on, right?
After playing a bit in Times Square where I was made to feel super pretty again (Seriously, what is it with NYC guys? My confidence was sailing!), we headed to Bryant Park, then to Grand Central Station. My feet were like "REALLY?" by the end of that day. It was exhausting but awesome.
The next day, I had to leave. I'd been having so much fun in NYC that I tried to switch my flight to a later day so I could extend my vacation, but the prices were outrageous! I was sad to go. There was so much I wanted to see: The High Line, The Cloisters, and more! But you know, the weather was getting colder and wetter anyway so maybe it was for the best.
I picked up a few souvenirs at the airport on the way home, because I needed to be a tourist and get something that said I <3 NY on it.
New York is such an intense city, especially at rush hour. I'm not sure if I could handle living there. But I love to visit. The energy is great, and there is so much to see and do. I can't wait to go back soon.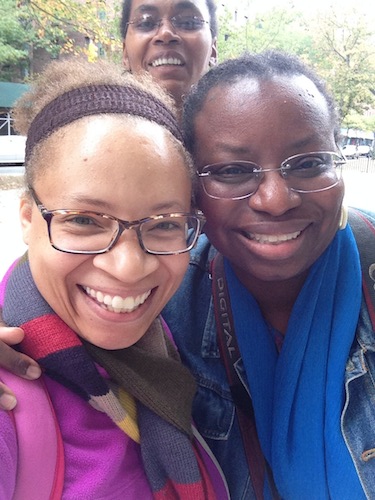 We'll be together again soon!
(Wanna see more pictures? Click here!)