can you find me?
The first week in September, I was invited to attend launch parties for ClassPass, a monthly services that gives people access to fitness studios all over the city. The program launched in Chicago this month!
There were three parties, and I attended two: The launch at Flywheel Sports, a spin studio, and one at The Dailey Method, a barre studio. What's so great about ClassPass is that I would have probably never tried either of these on my own, but this program encourages people to try new things.
I LOVED The Dailey Method. I'd heard that barre classes were hard, but I wasn't expecting to enjoy them so much. They combine ballet, yoga, weights, core work. It's challenging and you definitely feel a burn, but it's also low impact and works the entire body.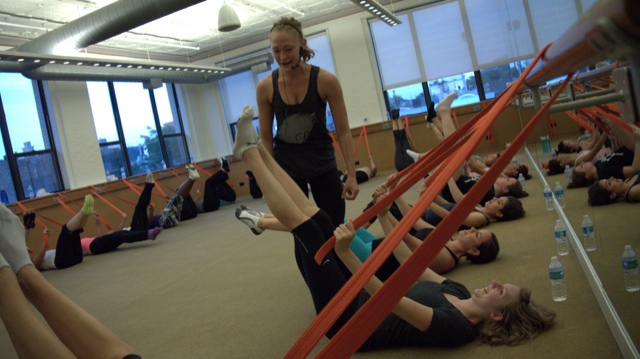 I'm somewhere in this room, I promise!
I was given a complimentary one-month membership, so I plan to try out some more of the offerings they have, such at The Bar Method, Mazi Dance, and Exhale.
I need to move more, I need to #livethesweatylife. It's time I got back into shape and started taking better care of myself, yes? I think this month is going to be the month to do that.
Photos lifted from here and here Photography by Joel Maisonet and Azuree Wiitala.