I know. I just keep making posts about me. But it is my blog, after all, so I think that's OK.
I stole this list of prompts from one of my favorite people/authors Jennifer Niven (peep her "about" page to see her answers) because it looked super fun, and also challenging. I'm going to have to think about most of these answers.
So please bear with me. Enjoy this post, and I PROMISE I'll write a real update soon. And I know I owe you some Disney pictures as well.
Favorite writers:
– Marian Keyes
– Sarah Dessen
– Erma Bombeck
… just to name a few
Favorite book:
-no comment-
Favorite literary heroine:
Right now, I'm rereading WATERMELON by Marian Keyes, and it's a toss up between Claire, Anna, or Helen (3 of the Walsh sisters).
Favorite storyline(s):
– I always enjoy a good love story, especially if it's funny but not full of unnecessary angst and drama. I really like rich, hot white boy stories, especially if he gets the girl who is either on a lower economic scale or of a different race, or both. And I like far-fetched yet sweet ones, like the movie THE PRINCE AND ME. And of course, I adore good old-fashioned romantic comedy, like HITCH, THE WEDDING PLANNER and books like ANNA AND THE FRENCH KISS by Stephanie Perkins and THE DISTANCE BETWEEN US by Kasie West.
– OK, this is going to seem really sick. But I love reading books about teens locked in institutions. Especially if it's against their will and really awful and they have to be super daring/clever/brave to get out. Like April Henry's SHOCK POINT.
– Dance, dance, dance! (OMG DANCE ACADEMY!)
Favorite love story:
Well, I listed a bunch in the previous question, so check there.
Fictional doppelgänger:
*insert diatribe about the need for #ownvoices and more diverse literature here*
Fictional boyfriend:
Detective Walter Clark Jr. from the (sadly cancelled) show Golden Boy
This is him: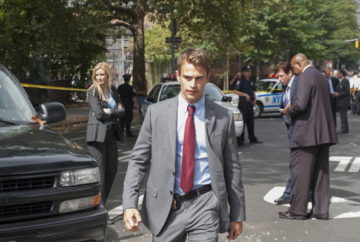 Don't EVEN act surprised about this.
Fictional best friend:
Regina Mills from Once Upon a Time
Favorite word(s):
banana
If I were a song, I'd be:
(when I'm depressed) Left in the Dark by Annelise Collette
(when I'm better) Bird Set Free by Sia
(when I'm flying) The Greatest by Sia
If I were an old-time movie star, I'd be:
Susan Kohner. She played a role that still to this day touches a deep part of me in the movie Imitation of Life.
If I could be another writer for a day:
Well, this depends on several factors! I can think of many author's success I'd like to have, or at least my own version of it.
If I weren't a writer, I would be:
My DayJob™ and freelance gigs are various copy editing, proofreading, and editorial gigs. So probably still that.
Things I keep on my writing desk:
My writing desk is technically my lap. I have a pretty fancy lap desk that my friend Andy got me for Christmas a couple of years ago. But also the coffee table in the living room, or my bed. But for the sake of this, I'm going to create my DREAM writing desk:
– at least one mug full of pens and pencils
– a 6 pack of Vitamin Water
– candy, candy, candy
– my glasses
– incense and sage, burner, lighter
– notebooks and notepads
– planner
– stickers
– my Lumiere lamp and Lumiere Funko figure
– my two Funko Regina Mills figures

Secret talent(s):
– I can cry on command.
– I can wiggle my ears.
– I can put my foot on my face like Maddie in the Big Girls Cry video.
Oh! And if you'd like even more ME (Oh God), then head over to ChiYA, a band of Chicago-based YA writers. I was featured on the blog a couple of days ago.