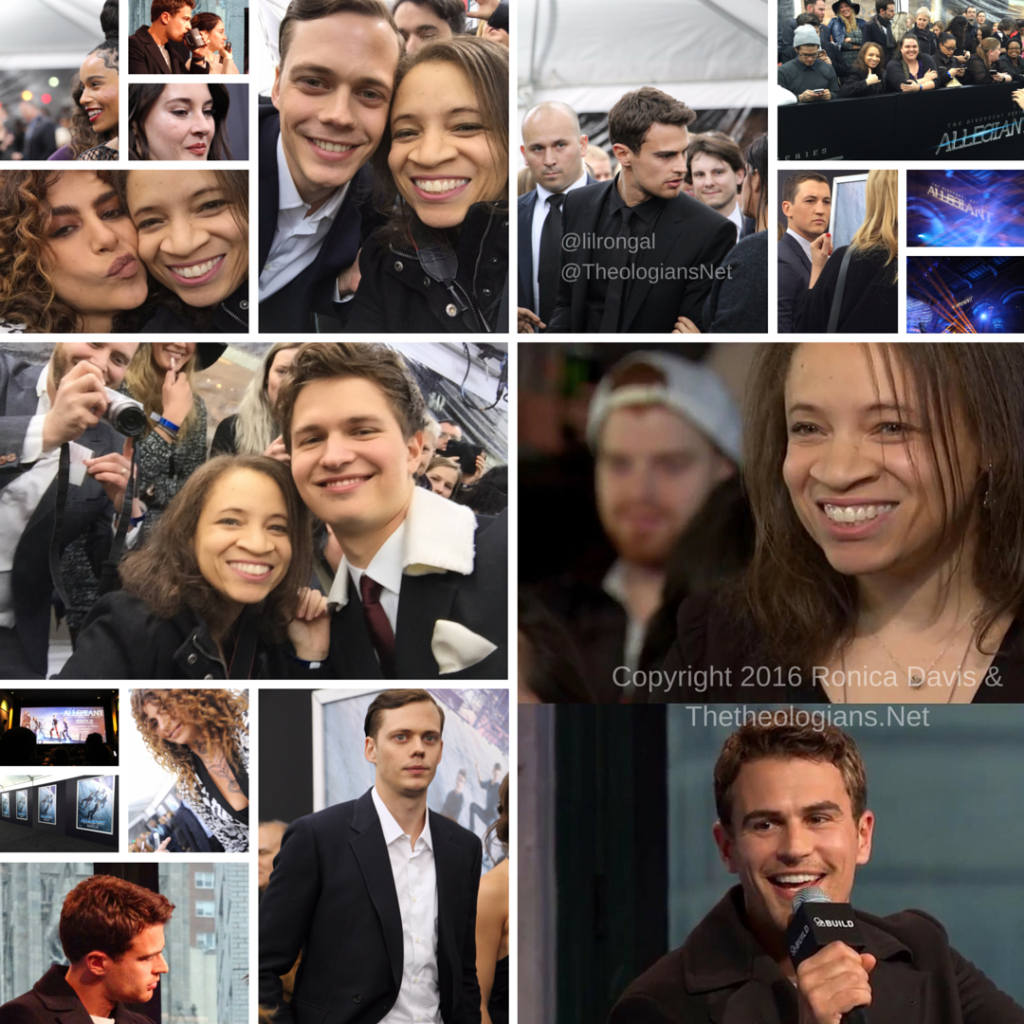 I blog for The THEOlogians, a news site for Theo James, who is my absolute favorite actor. Last week, I got to fly to New York City to attend the World Premiere of The Divergent Series: Allegiant, attend the Red (actually BLACK) Carpet, and was a guest at the after party. Theo is a lead in the movie, and he plays the character Four. In addition, I managed to get a ticket to the AOL Build session featuring Theo James and Shailene Woodley. Below is an account of both experiences!
AOL BUILD
I woke up Monday morning, my stomach in knots. I didn't know what to expect, and I'd never navigated the MTA on my own before, so my main concern was making sure I got there on time without getting lost! Turns out I didn't even need to worry about that. The trains weren't running right, so I had to call an Uber. Then traffic was a hot mess. I was very nervous, but I got there in plenty of time.
Check-in was easy. I just showed my confirmation and they let me up to the fourth floor. I was disappointed to see that all the seats in the front and second row were taken. I'd managed to find a seat in the third row, next to one of the employees, and I was OK with that. Much better than the back! I'm short, so the closer to the front the better!
I hadn't known I could take photos, so I didn't bring my really good camera. As a result, the image quality on my photos isn't up to my usual standards. I also hadn't known I could take video. Turns out that my seat was right next to where they walk in, which was a bonus I did not expect. You may have seen the video on Instagram.
Before they walked in, a guy came in to warm up the crowd. I was enthusiastic and they took note of that, and it came in handy later. The interview was fun and enjoyable. I forgot there were cameras on as Theo and Shailene charmed the interviewer and the audience. When it came time for questions, the AOL employee next to me made sure to flag down the question guy for me. He asked me what my question was, then he had to get approval. Turns out the publicists didn't like my first question. Luckily, I had another one prepared, and they liked the second question, which is the one I asked on camera.
It was awesome. Very very awesome. To have Theo look right at me, and then talk directly to me was a dream come true. Wow. I've only been wanting to meet him for years…YEARS…and even though this wasn't exactly a meeting, for that moment, he knew I was alive and acknowledged me. Not only that, but I am genuinely curious as to what he will come up as a writer and a producer, and I think (hope) he picked up on that. He's so smart and funny, I think anything he does will be brilliant.
I floated all the way back to my hotel!
ALLEGIANT PREMIERE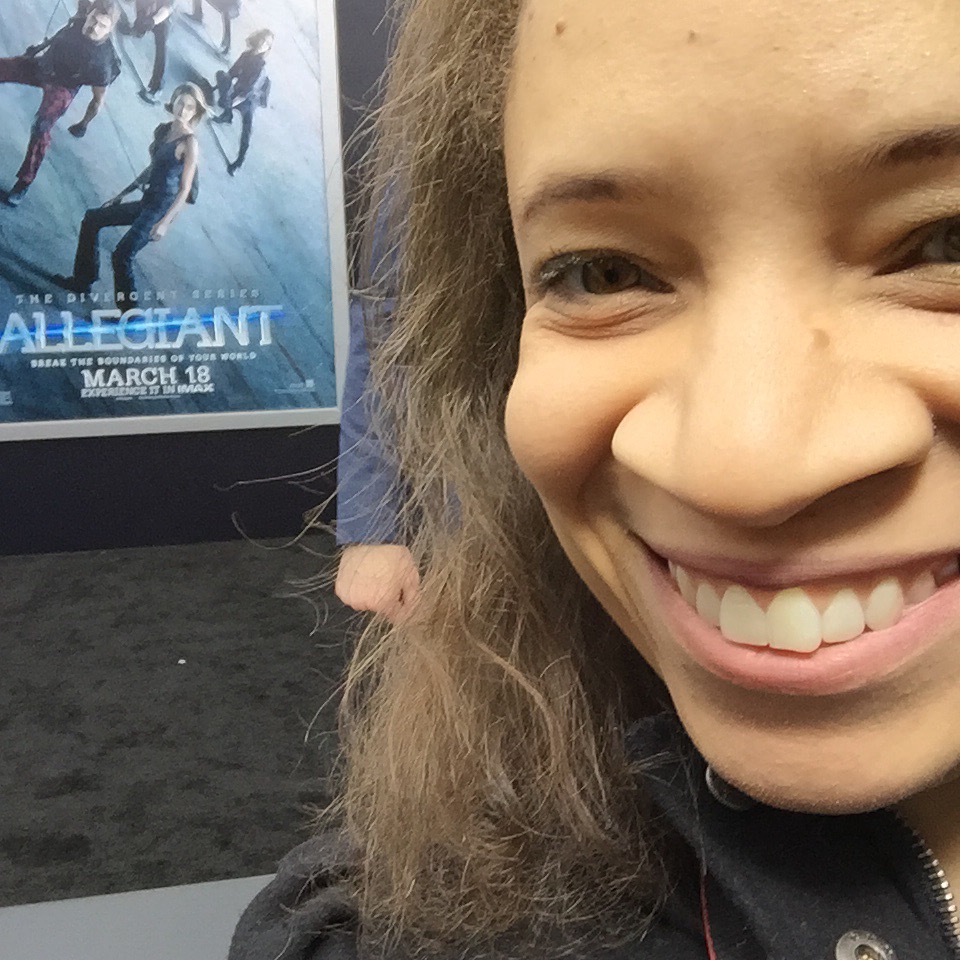 Stomach still in knots, I made my way over to the AMC Lincoln Square at about 4:30 p.m. Official check in was 5:45 p.m., but I wanted to get in line early. It was drizzling outside, and one of the guards tried to tell me to go back home because the lobby was too crowded—there was also a My Big Fat Greek Wedding event going on. (HA, fat chance) I found a little hidden niche with some other bloggers and hung with them as we were escorted to a line until time to check in. Talking to them helped calm my nerves and my stomach.
Soon, a representative called us over and handed out envelopes with the movie ticket and after party ticket, as well as a shiny blue wristband that allowed us entrance to the tent and fan pen. My packet was the last in the bunch, so I was nervous until she finally pulled it out! We were allowed to walk on the black carpet and take photos with the posters, but I elected to secure my spot in the front row of the fan pen instead.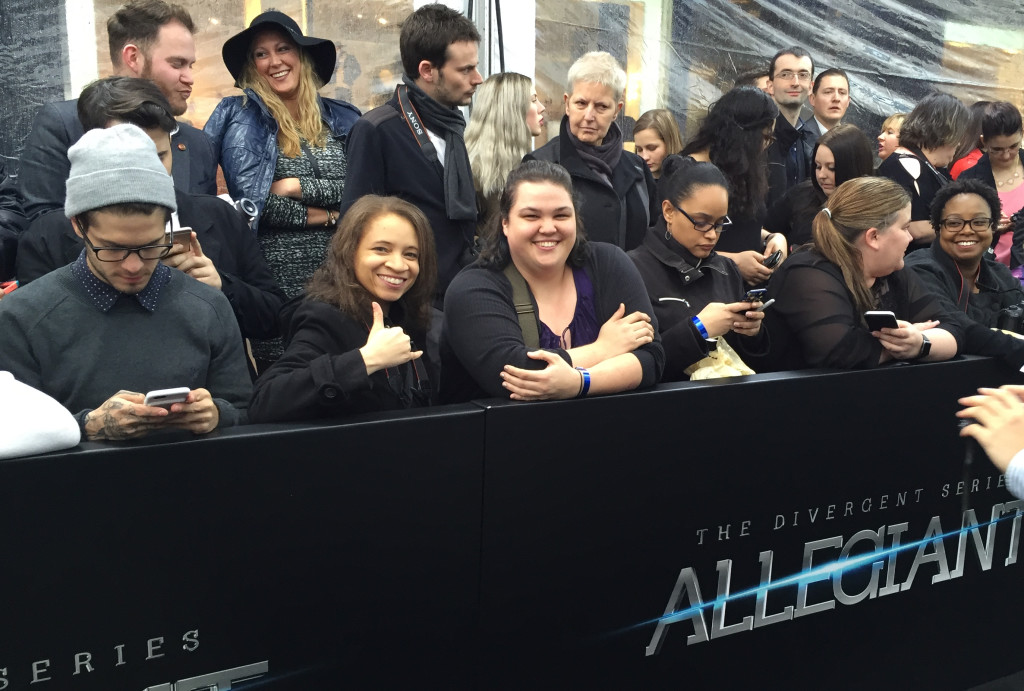 Then we waited. People slowly trickled in, press members, VIPs, the Damn Daniel guys, random celebrities I didn't recognize, or people I recognized but couldn't place, and the like. I could see camera flashes outside the door, some people thought it was lightning, but I knew that meant someone cool was coming in. The first actor in was Jeff Daniels, who did an interview and took photos. Then Keiynan Lonsdale came in with his plus one, Jordan Rodrigues, who he'd worked with on Dance Academy. (I had a full on fangirl meltdown at this point, because I am a huge fan of Dance Academy and Jordan Rodrigues played my favorite character!) I gave him a flirty wave as he stood on the carpet, and he gave me a small smile and waved back. Night made and I hadn't even seen Theo yet.
Bill Skarsgård (Matthew) came in and I snapped photos of him. He came right to the fan pen and took a selfie with me. He was so funny. He's so tall and his eyes are gorgeous. Nadia Hilker (Nita) spent a lot of time with fans, signing autographs and taking selfies and seemed like she was having a blast.
The next several minutes were a blur. The carpet got very crowded. There were loads of children all dressed up. There were lots of press and publicists and family members and friends, and it got loud. I saw Naomi Watts (Evelyn) posing for press, and Divergent author Veronica Roth stopped by the fan pen for a split second. I was next to Stacy from Page Turners (who I'd already known because of all the book events we both attend, and also I won a contest from her years ago), and she and Veronica are friends. Veronica made a regretful face at Stacy before being pulled away by industry folks. I managed to get a selfie with Ansel Elgort (Caleb), and I totally photobombed a photo with Miles Teller (Peter).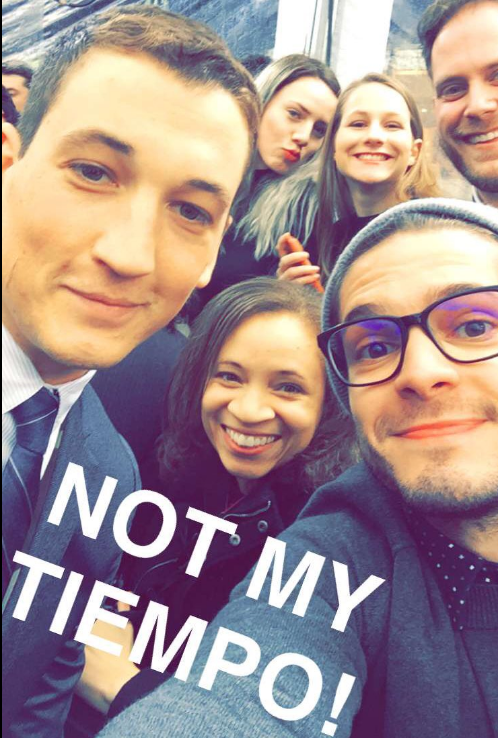 Shailene Woodley (Tris) stopped right in front of me but she was distracted by the industry people. I said "Hey girl heyyyy" and she turned around and said "Hey—". A look of recognition came over her face (she totally remembered me from the AOL Build!) and she said "Hey, how are you?" Then she was whisked away.
Theo James (Four/Tobias) didn't even get to me on the carpet before he was snatched away. I was a bit disappointed—I really wanted to see if he'd remember me from that morning. Once he went past, that was pretty much it. Zoe Kravitz (Christina) was busy chatting with people on the carpet, but I got a couple of nice pictures of her.

I TOOK THAT PICTURE!!!
Click here to see more photos from the Allegiant Black Carpet!
Soon after the frenzy of the carpet, they led us out to the theater. There were two theaters—the cast theater and the fan theater. I was in the fan theater. We had assigned seats. They gave us free popcorn and beverages, and the movie score played in the background while we waited for the movie to start.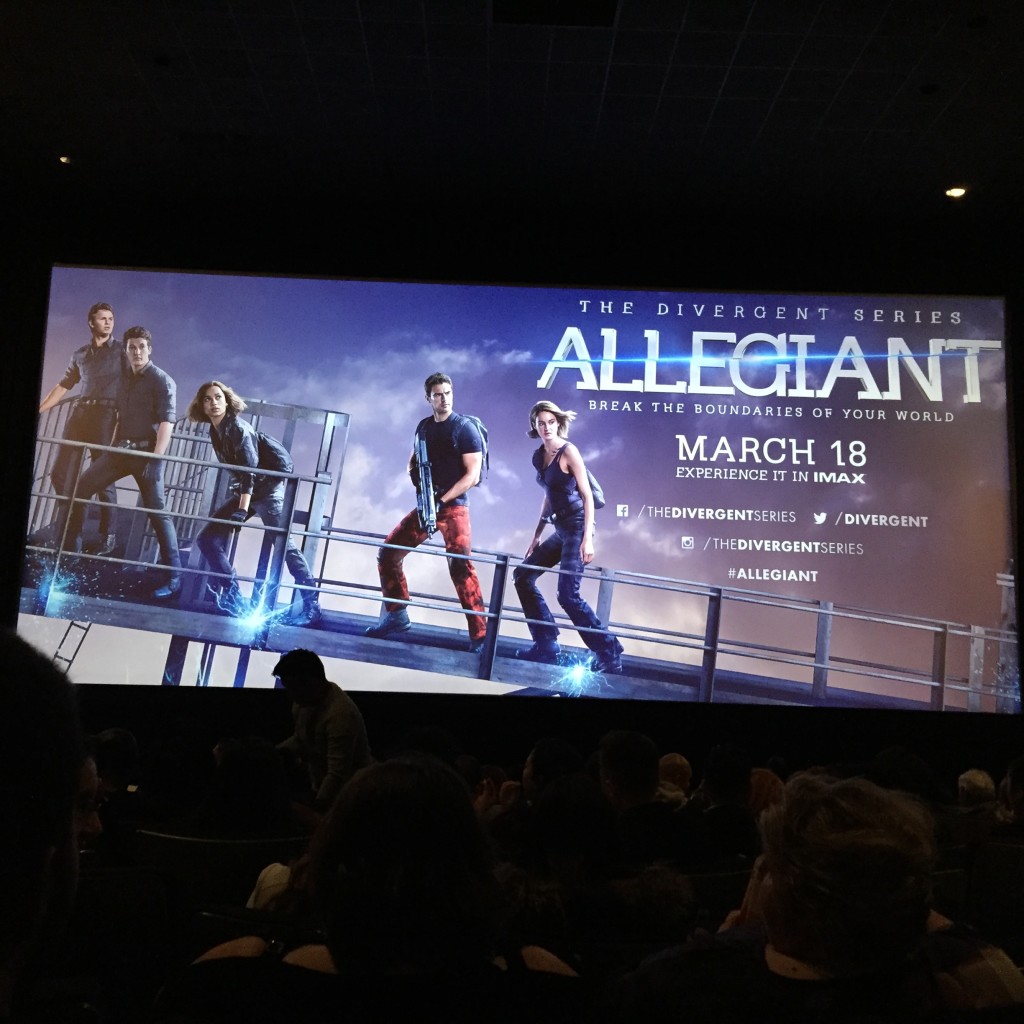 I enjoyed the movie! I wasn't sure what to expect, but I really hoped it'd be better than Insurgent. I thought it was, especially the second half. I was on the edge of my seat, and I was surprised when it was over. I like when I get lost in something like that.
After the movie, fans lined up outside and inside, waiting for the celebrities in the lobby who were heading to their fancy cars. I ran outside and grabbed an Uber to the after party. Traffic was bad, but I got there at a decent time.
They didn't let us keep the after party ticket. It was so cool, so I'm glad I got a photo. There were different ones. I got Caleb.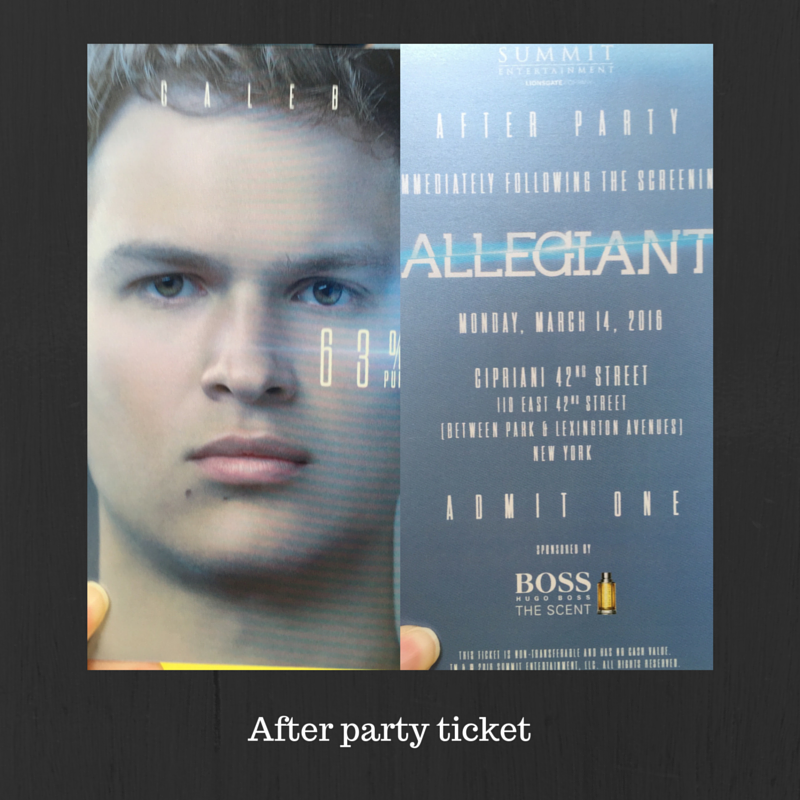 The place was huge! There were flashing blue lights, "Allegiant" lights on the walls. Loud music, people milling around, a really amazing coat check (seriously, the coat check was impressive), and the size of the main room went back forever. There were couches in the main room reserved for some of the industry VIPs. There was also a separate VIP section that we could peek in, and a private VIP section where most of the celebrities went as the night went on. I really wanted to go in there. REALLY did. Just to sit down and chill with everyone. But I was glad to be at the party at all.
Theo was already in the VIP section when I got there, so I knew there would be no chance of talking to him. The "Damn Daniel" guys didn't go into the VIP section at all, they hung out together, enjoying all the yummy food and talking to fans. Pasta, seafood, a cold bar, and yummy desserts were all over. Lots of people walked around with trays of tasty small bites. I couldn't understand why the people serving the champagne kept swerving away from me—do I really look *that* young? I had to go to the bar to get a drink.
But before I did that, I got to speak with Jordan Rodrigues. He recognized me from the fan pen and maybe even from my tweet—he'd "liked" it earlier that night when I tweeted about seeing him there.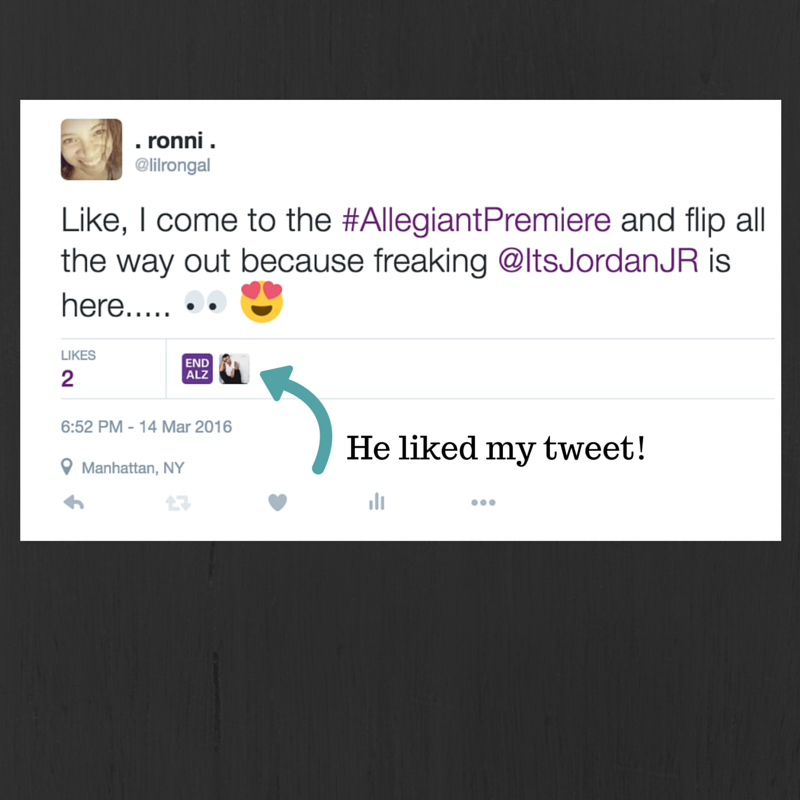 He and I talked about acting and career choices, among other things. He was easy to talk to and very nice. We had a great chat! He told me that it was really nice talking with me, which made me happy. I also got to talk to Keiynan Lonsdale, who is *beautiful* in person. Onscreen doesn't do him justice. He too was very nice, and he is super tall. Jordan is just right.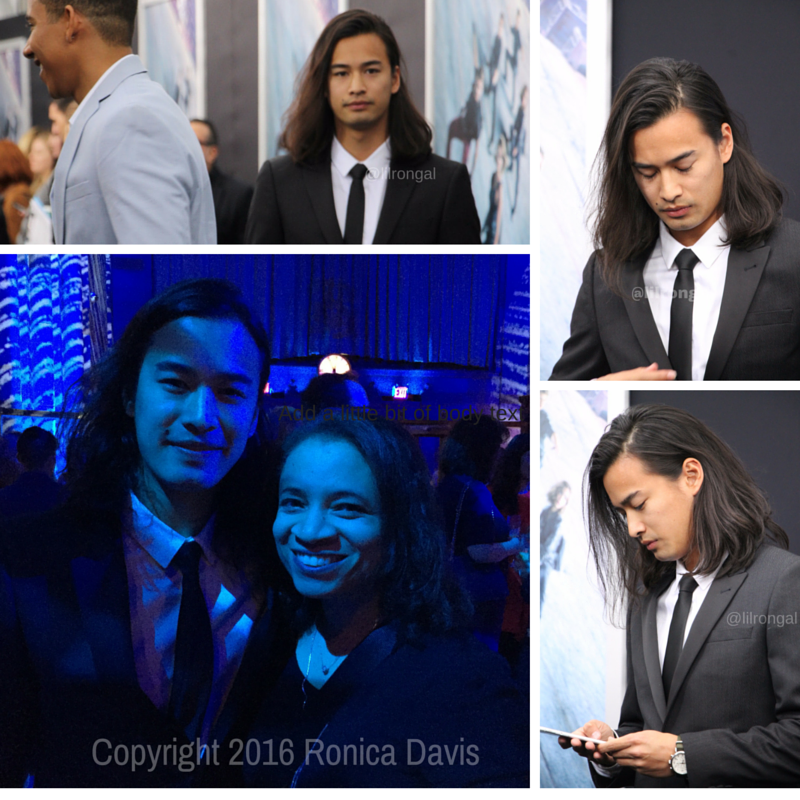 Ray Stevenson (Marcus) stayed out in the regular part of the party, but he didn't talk to anyone except people he knew. I got to chat with Veronica Roth about living in Chicago and how crazy it is that we live in the same city but I only get to see her at events like this. (I met her two years ago at the All It Takes Divergent premiere in Los Angeles, but she didn't remember. Not that I expected her to.) Theo came out once (probably to use the bathroom), and security was all over him. In fact, security saw me spot Theo and whisked him (he seemed confused) in the other direction. How rude.
There was a photo booth, so Erin of Once Upon a Twilight and I got in and posed all cute and stuff. Then we mainly people watched, munched on good food, chatted with Lauren and Michael from The Young Folks, and had a really good time. We danced, too. It was a party, after all! So why not dance?
Too soon, the night was over. I sat and watched some of the celebs leave, only because I am nosy like that. Ansel left with a big group, holding hands with his gorgeous girlfriend. I yelled "Happy Birthday" to him and he gave me a smile. Theo left with a big group of people, surrounded by security. It was like a kindergarten class: "Now everyone hold hands so no one gets separated." I headed back to my hotel then, ready to sleep for a million years, but the adrenaline wouldn't let me.
Things I Learned:
1. Actors in general are very tall. Most of them towered over me. (Or maybe I'm just very short.)
2. The "red carpet" is not just a time to pose for pictures and look pretty. Those actors are working hard. Taking photos, talking to press, giving fans a thrill, trying to keep up with all the frenzy. I can see how it could be overwhelming.
3. Lots of random people walk the carpet. Producer's children, plus ones, family members, random celebrities that have nothing to do with the movie just to name a few.
4. Press is everywhere.
5. The carpet is LOUD because there are so many people.
6. No matter where you are, there is always a "better" place you want to be. (Or maybe this is just me.) I was in the fan pen, but I wanted to be important enough to be on the carpet. I was at the party, but I wanted to be important enough to hit the VIP area. Then the super VIP area. And yet, there were people standing out in the freezing rain, wishing they were were I was. Interesting how that works, no? With that said…
I am everlastingly grateful to Lionsgate for giving me the opportunity to experience this taste of Hollywood glamour. It was an intense, amazing, crazy, adrenaline-pumping time and I loved every minute of it. I hope to get to do it again next year!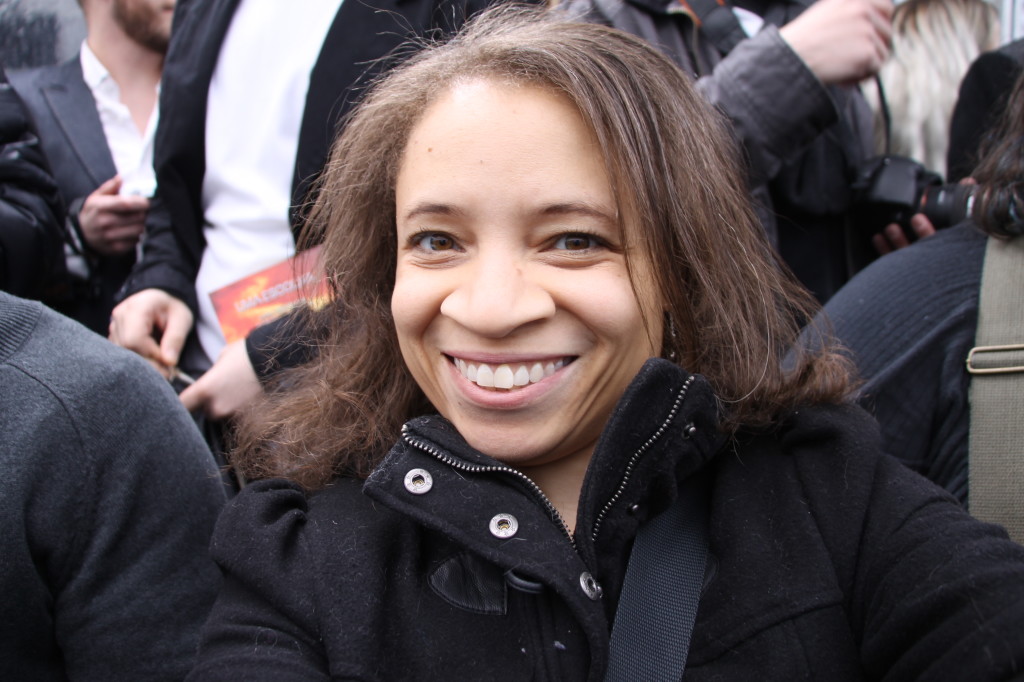 *shameless plug*
Please visit The THEOlogians, and follow us on Instagram, Twitter, and Facebook.