I did not plan on going to see the eclipse. I'd made a shoebox projector and had planned to go out during my work day, but joining the festivities at the planetarium? So not my usual jam.
But I had a migraine headache Sunday night that was intensifying, so I emailed work and told them I'd be out of the office. I also had an appointment Monday morning, another one Monday afternoon, and all the rushing around would have stressed me out! I still had an early morning (appointment #1 was at 9am), so it wasn't like I was slacking.
My appointment was done lightning fast, and Adam said "Let's check out the scene at Adler." I was surprised, but happy. The main character in my novel is an aspiring astrophysicist, and it honestly did not feel right to be missing the eclipse because of her. But this surprise meant that I was totally unprepared. I hadn't put on sunscreen. I didn't have my nice camera. I was in a dress! But I didn't mind. Not one bit.
Lots of walking and slow going, but we got glasses, a box of donuts, and found a beautiful spot by the harbor. My migraine was playing VERY nicely for once and keeping itself at bay, so I was able to enjoy the eclipse in all its wonder, even with the cloud cover battling peak!
IT WAS AMAZING!
It was hard to get pictures when the eclipse was starting—the sun kept looking round even though I could see that it was not. It looked like someone took a bite out, then it kept getting smaller and smaller. It got darker out; it was like twilight. And the temperature dropped. I was able to get more dramatic pictures (through my safe glasses, of course) as the moon started unblocking the sun, like this one:
I am really glad things worked out the way they did. And my migraine waited until I got home to start poking at me again, so it really worked out well.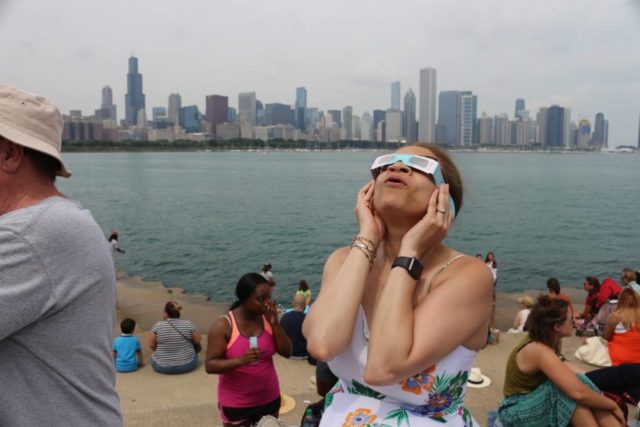 This really is such an epic summer.