So much to post about! Tomorrow, I leave for Disney World 2013 part 2.
It came up so fast because I've been so busy with work, work, work. Most days, I seriously work all day, then I go home and work 3-4 hours in the evening, and some weekends too. Long days but decent money. So this trip is going to be awesome!
A lot has been going on, too. Adam and I went with his family to Iowa for a weekend. It was great. Beautiful weather, great shopping, and good girl time for girls with my sister-in-law and her friend. Lola is getting so big and she's still as adorable as ever.
It was nice to catch up with family and friends and get out of Chicago for a weekend. And the Des Moines farmer's market? HOLY CRAP. The thing spans multiple blocks and streets… they only had asparagus for produce really, but there was so much other great stuff, like jewelry and clothing and mini donuts and wine. Especially blackberry wine. Mmmmm.
Adam and I went to see Marina and The Diamonds at the Riviera. It was a sold out show. I had to work that day, and the concert was general admission, so I knew we'd be in a long, long line. Except we totally didn't because Adam ran into an old friend who was part of the local crew, and he got us to the front of the line. That didn't make the people who'd spent the night there very happy–but they needn't have worried. Adam and I were so not into being in the mob on the floor–we went straight to the balcony and grabbed seats!
It was a fantastic show. Charli XCX opened for her and I hadn't realized that I'd already heard and liked a few of her songs.
But Marina. OH MY GOD Marina. She is a queen. She is a goddess. She puts on a great show, and she looks like she's having a blast doing it. Love her. So much.
My yoga group had its official closing circle May 24. It was really nice. We did our thesis presentations, talked about the program and how we were going to use the new knowledge.
Then we all went out for sushi! First we posed for pictures:

ariel and amy

genevieve, me, reshma

graham and his fiancee angie
Then I ate this!!

namasake don
And this!

passion fruit torte
Yummy yummy yummy!!!!
I got a couple of really cool things in the mail. One was this really cool iPad cover. My original cover is red, but I really wanted a pink one. So I got the Snugg iPad 2 Case, which I LOVE. Oh my God. It's so compact and professional looking, but still fun. It's got the smart cover thing, so I can close it and know it's going to switch off… yeah, I'm really happy with it.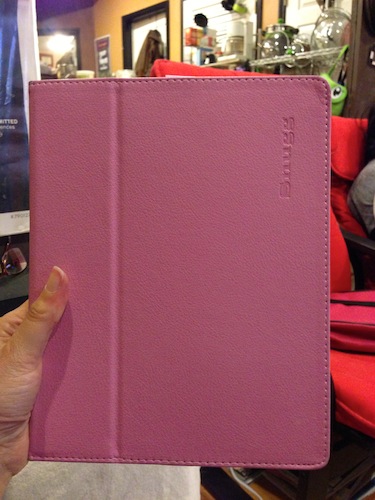 I also got a really awesome tee shirt from Dress United, which is a place you can get custom tees made. I went with a design of Ganesha, the remover of obstacles, and this is what I ended up with:
The back looks like this:
I really like the shirt. I wish I'd gotten a bigger size because the cut does run small (I believe this is a size M.) Clothes shopping is a challenge for me because sizes are NOT consistent across the board. I almost always have to try on, because sizes aren't even consistent within the same stores sometimes! So, I can wear an XS tee shirt in one place and a L from somewhere else… I tend to go with an M because that's usually pretty safe, but in this case, I needed to size up. I still like the shirt, though. The design really pops and the colors are vivid and bright! If you're looking to get a custom-designed tee shirt, You can get one for 30% off and free shipping if you use this link and the coupon code BLOG30OFF4U.
The lilacs have finally bloomed in my neighborhood, but they're already going away. Why do I wait all spring for them only for them to wither away not even a week later? So sad. I'm lucky I got photos, though!
I make it a point to take huge sniffs of the lilac bushes in my neighborhood whenever I can because I love them so much. Now, I'd LOVE to think that once the lilacs are out that the weather is finally broken, but nope. It didn't even get past 55F today. And it was rainy and cold. COME ON. It's JUNE already.
Thank God I'm going to Orlando tomorrow, where the forecasted high is 86F. SO looking forward to the heat. It's kinda messed up that it's June and I still have to go to Florida to warm up…..
Anyway. I'm just about all packed. Which is kind of a miracle considering I usually start packing the night before for these things. Aidan is playing the new Kirby game I got him, and my mom is in the kitchen washing glasses for some reason. She's all packed and so is Aidan, except for things like electronics, which are currently charging, medications that need to be taken in the morning, and toiletries which will be used in the morning. But tomorrow this time, we'll all be in Orlando chilling. So excited!
I don't know how we're all managing to act so calm….
Anyway, that's all for now. Till next time!
I received free products from Dress United and Snugg in exchange for my honest and unbiased reviews.