Anywhere Is
The name Anywhere Is comes from my absolute favorite song, titled Anywhere Is by Enya. I fell in *love* with the song in early 1996, and it's been my favorite ever since. You can watch the YouTube video here to hear it for yourself. It's really an amazing song.
Anywhere Is has been around since November 2000, and it's a mishmash of mom blog, book blog, photo blog, and craft blog. I talk about stuff that's going on in my life and stuff flittering through my mind. You'll see lots of photos and read about yoga, cats, Disney, Aidan, dolls, books, authors, Chicago, and how much I hate the cold. I also do quite a few memes, but I'm trying to cut back on that.
blogging
I've had some sort of web presence since 1997 (started out with a page on AOL, y'all!), and I've been blogging since 2000. You can check out a lot of my old entries on the Way Back Machine here, and you can see my old AOL page on the Way Back Machine here. Also, if you check my blogger profile, you might be able to dig up a few old gems, and if you really want to go way back, check out this pitas page of mine still floating out there: ronni.pitas.com. I've met a lot of friends that way, and I've seen the rise and fall of many blog trends. Blogging's been awesome for me, and I think it'll keep being that way!
cameras & photos
I use my iPhone XR for most of my shooting. Sometimes I use a Canon Rebel T3 with an 18–55mm lens if I want to get fancy. I use Canva or Photos for quick photo enhancements.
computer
I use a MacBook Pro for almost everything. I am old school, so I use a mouse with it. I also have a desktop PC that runs Windows 10, and a Razer gaming laptop.
crossposting
Posts on this site may be crossposted to my Live Journal.
domain info
Purchase date: November 2000
Registrar: Go Daddy
Web Host: A Small Orange
Powered by: WordPress
All contents of this site, unless otherwise noted, are copyright © 2000–2019 by Ronica Davis-Selzer (that's me!). Please don't steal, it's not nice.
plugins used
Feedburner Feedsmith
Akismet
LinkWithin
Yet Another Related Posts Plugin
FD Footnotes
WP Stats
Fast, Secure Contact Form
credits & site resources
imood
Bouncy Bubbles
Mazeguy
Steal These Buttons
Komodomedia
Flickr
Background Box
Carrie Loves (social media buttons)
link me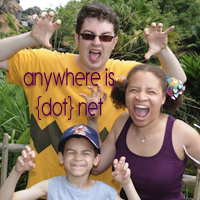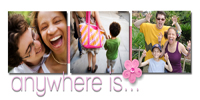 OR you can use one of these old school buttons from back in the day.









awards
Blog Awards
Well, I'll be a banana with teeth. People like me enough to give me awards. The Versatile Blogger award is from Priyanka at Girl on the Move. You should visit her. She's pretty awesome, and she draws funny pictures. Jamie at I Am Not The Babysitter awarded me this one as well.
The Liebster Award is from Kenya at Here's the Thing, Abby at Mommy Moments with Abby, and dear old Priyanka at Girl on the Move. The ABC Award (stands for 'awesome blog content') came from Pamela at Stories of a Mom, and the Cute Blog Award came from Shahorah at Life Between Living.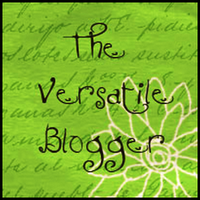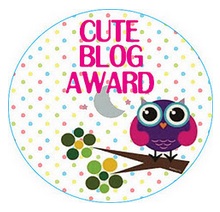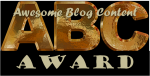 disclaimer
Privacy
I will not share personal information with third-parties nor will I collect information about your visit for use other than to analyze content performance through the use of cookies, which you can turn off at any time by modifying your Internet browser's settings. I am not responsible for the republishing of the content found on this blog on other Web sites or media without permission.
Blog Comments
I reserve the right to edit or delete any comments submitted to this blog without notice due to:
1. Comments deemed to be spam or questionable spam.
2. Comments containing language or concepts that could be deemed offensive.
3. Comments that attack a person individually.
Terms and Conditions
All content provided on this blog is for informational purposes only, and I make no representations as to the accuracy or completeness of any information on this site or found by following any link on this site. I will not be liable for any errors or omissions in this information nor for the availability of this information, and I will not be liable for any losses, injuries, or damages from the display or use of this information. Any opinions expressed on this blog are my own.
This policy is subject to change at any time.
memory lane
I've had Anywhere Is a long time. The site's seen quite a few changes over the years. Here are some screenshots of a few of my layouts from the past decade: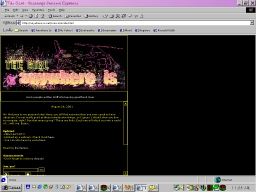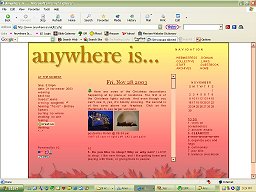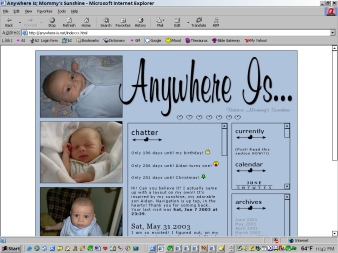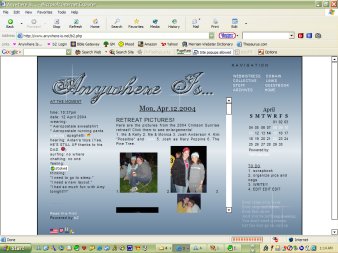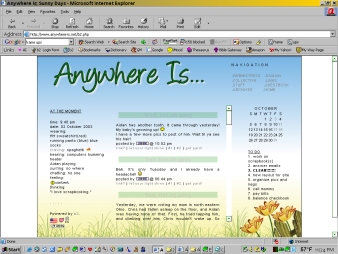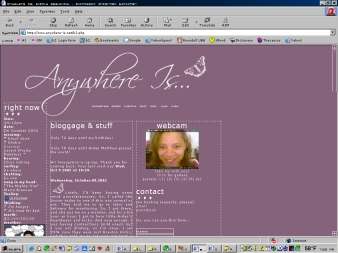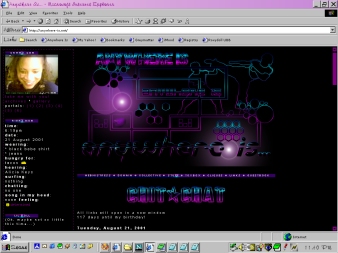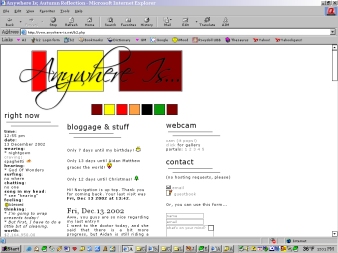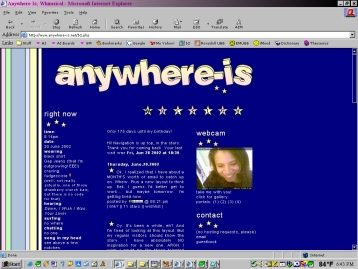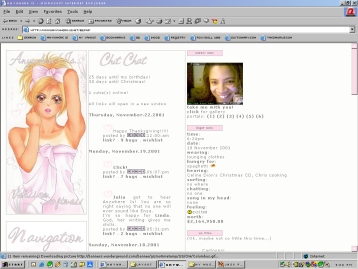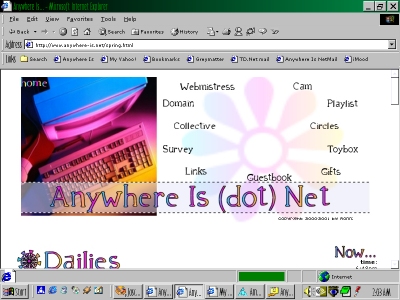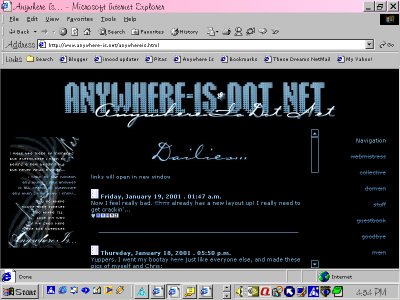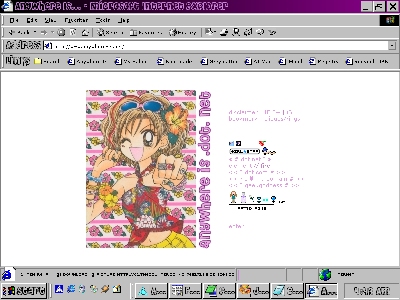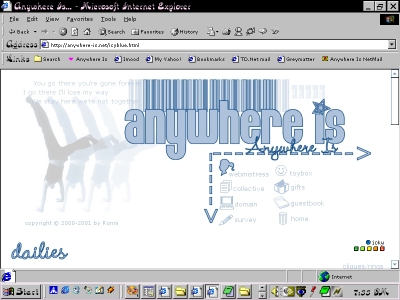 random
Back in the day, there used to be cliques, pixel adoptions, and web rings. Check out some of the cool, random stuff I've collected over the years.