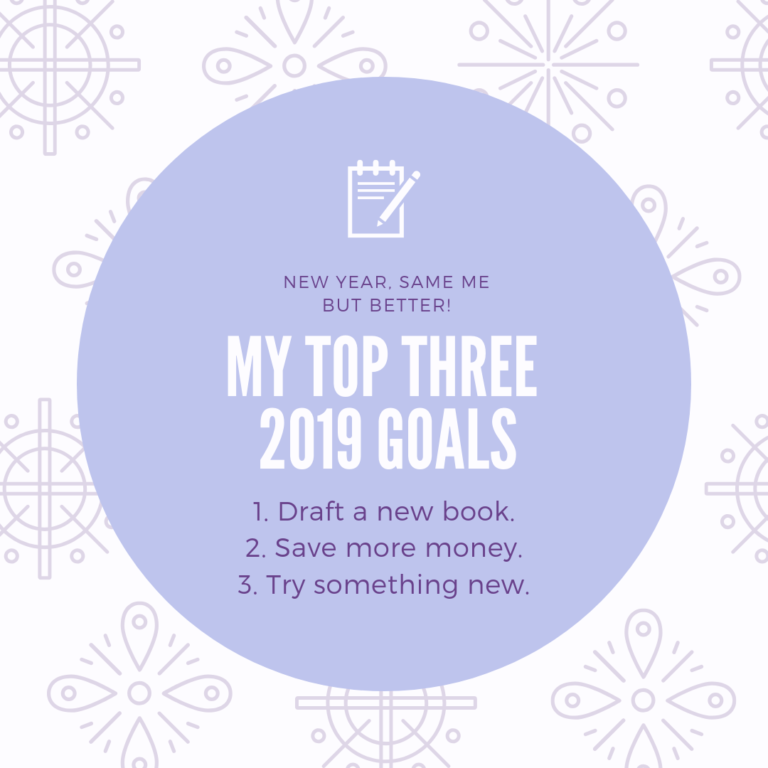 19 is my favorite number, and this is the first (and barring any major scientific breakthroughs) and last time I'll get to have it as the actual year! How exciting!

The last few years have been rough on a general, worldly scale. Seems like every day in the news there is something horrible happening. I hope 2019 brings some big, positive changes for good people trying to do good things.

I hope I am a good person and that I keep focus on doing good things.

The year started off with me sleeping in a bit, finishing up a deadline, relaxing, reading, and writing. Tonight's dinner menu was pork loin and green beans.

Tomorrow, I'm back to work for real. I'd been back since December 26, but it was very slow in the office, and the floor was quiet and chill. I don't anticipate things getting too out of hand this week, but next week is sure to be ramped up to 100. I started just as the busiest year ever was winding down, so soon I'll get to see what it's really like.

I'm only a little bit nervous.

When I look at the things I hoped to accomplish last year and beyond, these are the ones that I managed to land:

– a publishing contract
(my book sold! eeee!)
– read at least 25 new books (at least 10 by POC)
(I read 37 new books, and 20 were by POC)
– travel to at least one place, domestic or international
(I went to Jekyll Island, Disney World, the Smoky Mountains, Atlanta, Charleston, and Cleveland)
– do more yoga
(before I started a new day job, I was going every week for a while there. still not ideal, but better than before)
– walk more
(the commute made this necessary! plus I went to Disney World. naturally lots of walking there!)
– take more pictures!!
(definitely did this one!)

As I've said in the past, I don't really do resolutions. I like to set goals. Actually, intentions. Things I want to accomplish, changes I'd like to make, but not necessarily within the confines of the 365 days. Some of these goals are recycled, because let's face it. I am who I am and the same things I've been working on all this time are probably the same things I'll be working on for the rest of my life. But it's OK. I'm a work in progress, and that's fine. (The purple ones are new for 2019!)

Intentions for 2019:
– I want a joyful, energetic body.
– I want a loving, compassionate heart.
– I want a restful, alert mind.
– I want lightness of being.

In 2019, I NEED to:
– DRINK LESS SODA (And only ginger ale if I *do* have it. I'm talking no more than once or twice a month.)
– DRINK MORE WATER
– exercise more
– walk more
– write more (this novel NEEDS to come out of me. It's been in there for nearly 3 years now)
– make more money
– pay off at least one big credit card
– spend less time on social media
– spend more time working toward my goals
– spend more time with my loved ones
– declutter and clean my bedroom
– go somewhere cool
– take even more pictures

In 2019, I hope to:
– read at least 35 new books (at least 10 by POC)—up from 25 last year
– do a better job of keeping the place clean and neat-looking
– travel to at least one place, domestic or international
– have financial comfort
– have more fresh, whole foods and less meat in my diet
– eat less fast food
– get in better physical shape
– make new friends and appreciate the friends I already have even more
– do more self care (massages, positive self talk, spa days, etc.)
– journal more
– save money
– be more brave with my writing
– write more snail mail letters
– maintain a work-life balance that also sustains my lifestyle

In My Dreams for 2019:
– a new publishing contract
– my creative well running over
– discipline to complement and honor the creative well
– happiness and health for me and my loved ones
– hitting at least one best-seller list
– things I want to hold close, for now

Looking Forward To:
– MY BOOK!! NOVEMBER 12, 2019!!!!
– summer
– new books and music discoveries
– writing this novel (or whatever novel comes out of me)
– trying to grow my hair longer
– seeing where my writing takes me!

Here's hoping that 2019 is filled with love, light, peace, happiness, good health, amazing opportunities, and positivity for all of us. Be willing to let go of what does not serve you to make room for that which does. Sending it to me and all of you.